Eagle Spirit Flute
Finest Quality, Hand Made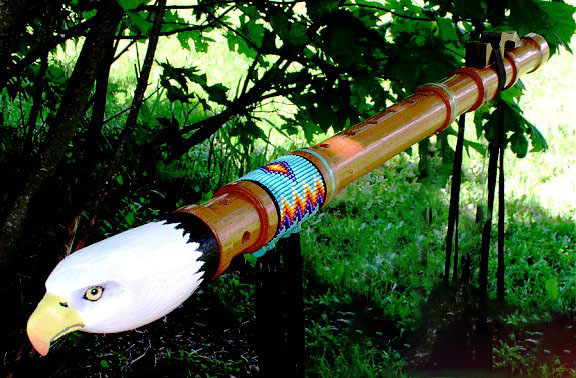 Created in Cedrela (Hardwood - of the Mahogany family) the spirit end (Basswood) is meticulously hand crafted and hand painted. The vibrant sound that emanates from this flute is exceptional as each note played can be felt by the players finger tips! This flute is perfectly 'balanced' so as not to be compromised by the weight of the Eagle's head.
With the 'Breath of Life' minimum breath air flow design (pioneered by Waking Spirit Flutes) this flute is ideal for both the beginner and the more experienced professional player/recording artist. The 'Breath of Life' minimum breath design enables inventive playing and longer phrasing between breath intakes.
Real loom woven glass beads, hand sewn onto quality hide add a decorative contrast to this outstanding instrument.
This instrument, along with others in this special range, are considered to be the finest Spirit Ended flutes available.
If you have any questions, please contact me at:
Waking Spirit Flutes
Specifications

Each flute is handcrafted from the very 'heart of the wood', so that with just the '

Breath of Life

' you can make them sing.

Wood Species

Spanish Cedar & Bass Wood

None

Integral Wooden Inlaced with Genuine Turquoise

Block (Fetish or Totem or 'Bird')

Sacred Steps

Tuning

Leather Ties

Finest quality, selected Deer Hide

Other Adornments

Beaded flute wrap


Price: $1,030.00

plus Shipping and Insurance for Contigious United States.

All other states and International Orders:
Contact us for shipping and insurance costs.


Standard Tuning Modes 1 & 4

Mid Range
Modes 1 & 4
plus S & H and Insurance